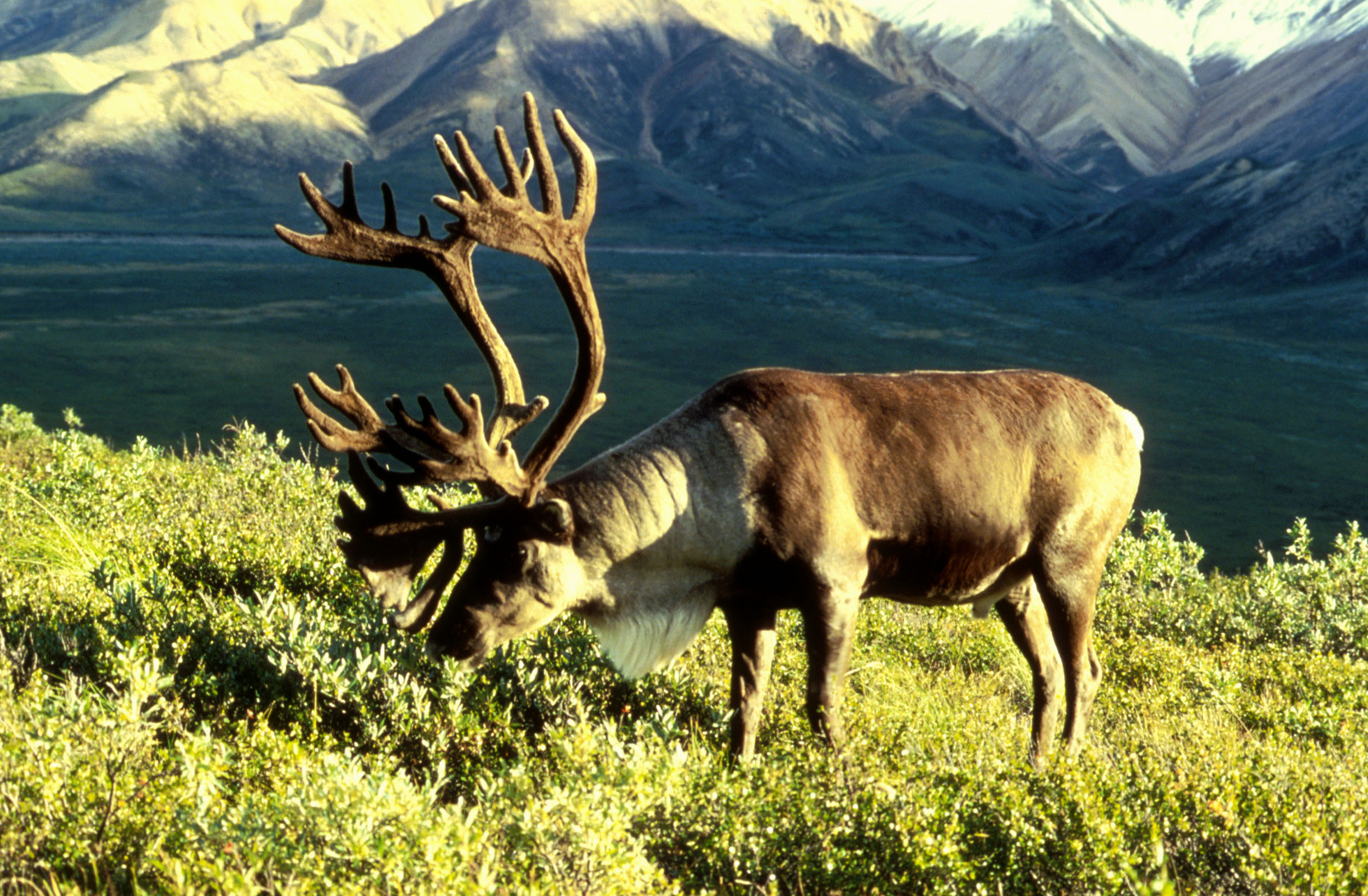 In Alaska, the fourth stop of a literary tour of the Arctic, World Wildlife Fund's Margaret Williams finds an appreciation for nature, history and culture, and offers a reminder that when change is unseen, our sense of the wildness of a landscape is unknowingly clouded.
I first traveled beyond the Arctic Circle in 1998, when I flew in a small plane over the snow-covered Brooks Range and landed on the coastal plain of the Arctic National Wildlife Refuge. Intimidated and in awe, I was hooked. I have made my home in Anchorage for the past 11 years.
Explorers, biologists, poets and others have written thousands of books about Alaska. Here I recommend a smattering of history and geography, nature and science to ground readers in the beauty, richness and change in the Great Land. I selected "Coming into the Country," "Into Great Silence" and "A Land Gone Lonesome." In the face of climate change, industrial development and other human pressures, these books provide an appreciation of the cultural and natural values of America's Arctic state, which we should heartily defend against these and future threats.
Coming into the Country
Despite my love for Alaska, I cannot recommend Alaska-based reality shows. For a real look into the heart of Alaska's wilderness and its people, John McPhee's "Coming into the Country" is a classic.
McPhee wrote the book in 1977 after touring some of the state's most rugged natural areas and witnessing major transitions underway, such as the discovery of oil at Prudhoe Bay and plans for the Trans-Alaska Pipeline. McPhee portrays people pushing to shape and modernize the young state and those going deep into the "country," to live in wild Alaska. On the Yukon River, for example, McPhee finds Dick Cook and Donna Kneeland, who garden, trap, fish, hunt, mush dogs and survive off the land. Today, a number of Alaskans still live a simple life "off the grid."
I love McPhee's book for many reasons, including how he captures Alaska's uniqueness. "A single voice can be particularly audible in Alaska, because there are so few people. Much is made of Alaska's great size. It is worth remembering, as well, how small Alaska is – a handful of people clinging to a subcontinent." It's been 40 years since McPhee wrote the book, but some things in Alaska remain the same.
As McPhee moves around Alaska, he meets its charismatic leaders, including Willy Hensley, an engaging Iñupiat man who helped form the Alaska Federation of Natives and was elected, at 24, to the Alaska Legislature. Today, Hensley remains an active and influential Alaska Native leader. (For more about Hensley, read his memoir "Fifty Miles from Tomorrow.") Also McPhee meets Arliss Sturgulewski, a formidable woman and early state leader, who remains a beloved figure.
I was rereading "Coming into the Country" as I floated down the North Fork of the Koyukuk River through the Gates of the Arctic National Park. I thought about John Kauffman, who helped select 80 million acres (32 million hectares) of land for conservation under the Alaska Native Claims Settlement Act. Kauffman, whom McPhee likened to the "sharp, flinty peaks of the central Brooks Range," was the main engine behind the creation of the park. Kauffman had "walked it, flown it, canoed its rivers, camped in many weathers below its adze-like rising peaks." We owe a great debt to Kauffman and other conservation pioneers for protecting Alaska's spectacular landscapes, a legacy that will benefit wildlife and people for generations.
Into Great Silence: A Memoir of Discovery and Loss Among Vanishing Orcas
A dear friend of mine worries about "ecological amnesia," his name for the phenomenon of forgetting what has been lost in nature. If we are unaware of a landscape's missing elements, or that an ecosystem no longer functions naturally, we may allow ourselves to be satisfied with the status quo. I often think about this when I explore a new area: Am I seeing the whole picture? What was here before? What has been introduced?
"Into Great Silence," by Eva Saulitis, is an evocative, bittersweet account of one of Alaska's most amazing areas, Prince William Sound, before and after the 1989 Exxon Valdez oil spill. Saulitis, a whale biologist, brings Prince William Sound to life through its textures, tastes, smells, sounds and sights.
As I read, I imagined myself in a skiff with Saulitis, bumping along beside Aligo, an orca, as he slapped "his paddle-shaped foreflippers," and hearing Moon and Holgate groan and squeal. Listening to the resident whales, which use a musical language unlike the whines and yips of transient orcas, Saulitis observes: "This was something other: long, descending cries, and high-intensity blasts ending in upsweeps, like questions. This was a voice at once strident and mournful, a strange hybrid instrument, part trumpet, part oboe, part elephant, part foghorn."
Saulitis's poetic accounts made me wish for a gulp of the Southeast Alaska air, to breathe in the "smell of spruce needles, the salt tang of kelp beds." Later, after the tanker accident, her senses reveal a new, dark truth. While doing field research, Saulitis comes upon the oil slick at Point Helen. The "stench of crude oil" hits her like a wave and stings her throat. The "hemlock scent entwined with the stench of gasoline exhaust and sulfury whale breath" overwhelms her.
Saulitis's stories remind us of how much was lost when the oil spill smothered so much natural habitat. Reading her memoir is one way to avoid the trap of ecological amnesia.
A Land Gone Lonesome
In "A Land Gone Lonesome," Dan O'Neill canoes the Yukon River and its tributaries, tracing the ebb and flow of recent human activity on Alaska's longest river – and North America's third longest river.
During the gold rush in 1896, new towns popped up throughout the Yukon's watershed. Some towns sizzled with activity, only to vanish a year later as miners raced to the next big deposit. By the 1960s and 1970s, a different kind of "outsider" had begun to trickle in: hardy souls who envisioned a better life in the wilderness. Some were dreamers with neither skills nor stamina for the severe winters; others were resourceful, strong – in body and mind – and thrived in their extreme surroundings.
This book is a good follow up to "Coming into the Country." O'Neill encounters some of the same people McPhee met 30 years earlier, and he highlights the changes that have occurred since then.
Floating downstream, O'Neill discovers how certain well-intentioned plans to conserve areas of cultural importance have gone awry. For example, the special value of the Yukon-Charley Rivers National Preserve was its human presence. Many cabins, trap lines, historical buildings, and active homesteads revealed the culture of trade and transportation along the waterway. Congress mandated that the people who lived in the parklands should have their ability to hunt, fish and lead a subsistence lifestyle protected. Yet the National Park Service did pretty much the opposite.
O'Neill is bitterly frustrated as he finds one historic cabin site after another that has suffered neglect or destruction. Hard-working, innovative men and women who found peace and satisfaction living off the land have vacated the area. Without them, he shows, we lose insight into a way of life that requires respect for nature, patience, and creativity. More than ever, it seems that such qualities are needed, for the future of wild places and creatures, and humanity alike.
There are many other riveting books on Alaska for which there is no room left in this column, including "Two in the Far North" by Margaret Murie; "Shopping for Porcupine" by Seth Kantner; "Cold" by Bill Streever; and "Rowing to Latitude" by Jill Fredston.
This article originally appeared on Arctic Deeply