The second day of the IPY conference was just as intriguing and informative as day number one. There were a wast number of session all around, many interesting movies in the polar cinema and grand exhibits in the polar expo.
The Arctic Portal held a presentation of the Virtual Learning Tools a project it is cooperating with The UArctic, APECS, ICR, University Centre of the Westfjords and the Steffanson Arctic Institute. The project will create a set of modern learning tools with the special requirements of Arctic residents in mind. For further information about the project go here.Additionally to giving it's own presentation the AP staff was present at numerous presentations by some of the worlds leading scholars in polar science.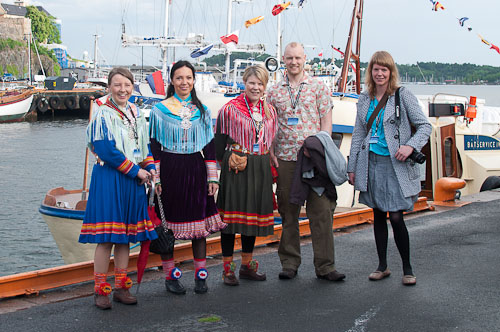 The day ended with a barbecue out on one of the archipelagos stretching into the Oslo fjord. The event was held by the Frammuseum which is dedicated to the ship Fram and the history of Norwegian polar explorations. The trip started by Akerbryggja and included a 15 minute trip with the local ferries. The barbecue and museum exibition were quite a sucess and the guest generally like the moose hotdogs that were on the menu.