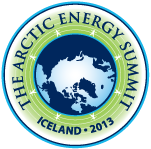 Arctic Energy Summit calls for papers. The opportunity for submission expires on April 15th. Don't miss this opportunity to share your research and insights with your peers at the premier Arctic energy event. We welcome submissions that directly address the conference theme.
Submissions are accepted for Paper Presentations, Poster Sessions, Panels and Workshops. Click here for more information on the types of submissions accepted, abstract guidelines and the conference themes, or email .
The 2013 Arctic Energy Summit is a multi-disciplinary event expected to draw several hundred industry officials, scientists, academics, policy makers, energy professionals and community leaders together to collaborate and share leading approaches on Arctic energy issues.
The 2013 Summit will address energy extraction, production and transmission in the Arctic as it relates to three thematic areas and key questions.
For more information about the conference, the registration and sponsorship's opportunity, please visit the conference website.
Sources