Monday 23 January the world's most prestigious competition among chefs ended in Lyon with Denmark taking first prize, Norway second and Hungary third. Congratulations to the chefs for joining the big Bosuce d'Or Winners family!
Social Commitment Prize which went to the team of Mexico. Reindeer herders were present at the main stage of Bocuse d'Or with Director of ICR Anders Oskal in the award committee. Anders Oskal, the Bocuse d'Or jury and Secretary General of World Reindeer Herders, commented: "Today the world is facing several sustainability challenges, food security is a major concern as we are now entering into one of the largest food crisis we have seen in many years. There is also the challenge of climate change and social challenges arising from all of this. And to me taking part in this award has been a great joy and pleasure also because it gives some promise, we can see that chefs are able to change the world, as chefs are dealing with something so universal and important to us all - food"
Reindeer herders and chefs presented the menu of reindeer products to the Bocuse d'Or Winners Dinner which was held on January 21st.
NOMAD Indigenous FoodLab - Chef team
Mdm Inger Anita Smuk
Mdm Elle Save Gaup
Mdm Alena Gerasimova
Mr Johan J Gaup
Mr Per Thomas Oskal
Menu NOMAD Indigenous FoodLab for Bocuse d'Or Winners Dinner (photo ICR)
Special traditional reindeer sausage with meat served with reindeer broth
Reindeer bread with smoked reindeer meat and lingonberry
Reindeer pancakes with cream and cloudberry
The event was a fantastic recognition of the work ICR has done in the field of indigenous peoples food knowledge systems for many years!!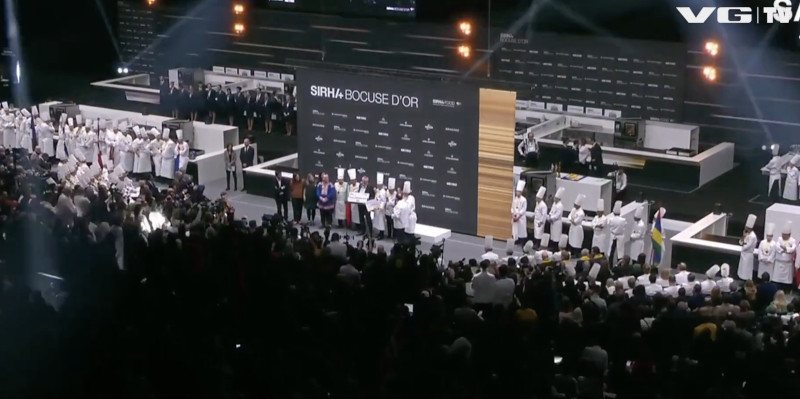 Source: ICR