News & Press Releases
28 July 2010
The Arctic Portal has just come across a plant portal launched by the Gwichin Social and Cultural institute. In 1997 the Gwich'in Social and Cultural Institute partnered up with the Aurora Researc Institute (ARI) and commenced work with Gwich'in elders on an ethnobotany project. The outcome of this cooperation include the book titled Gwich'in Ethnobotany: Plants Used by the Gwich'in for Food, Medicine, Shelter and Tools" by Alestine Andre and Alan Fehr (2002) as well as a masters thesis titled Master's thesis by Alestine Andre (2006) called, Nan t'aihnakwits'inahtsìh (The Land Gives Us Strength). Combined these two bodies of work form the basis for the Gwich'in ethnobotany database.
The plants in the database are divided into two categories which are by their use and by their type and guidlines or recomended on how to treat the land that offers these plants which can be seen below.
Respect for the land:
Important message from our Gwich'in Elders teachings
Harvest all medicine plants away from roads and communities.
Take only what you need. It is important to collect only the plant parts you need, pick selectively from different areas and take care not to over harvest from one area.
Leave an offering for gathering special medicine plants like tamarack, juniper and white moss (reindeer lichen). You may also leave offerings for other plants as a sign of respect. Place an offering like tobacco, wooden matches, or say prayers before and while collecting plant parts. Please note to always place an offering before collecting ochre.
Share harvested resources such as medicine plants, meat, fish, berries with those not able to obtain these resources for themselves.
Harvest resources with care, love and respect.
The Gwich'in database can be found by following this link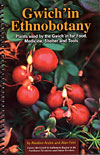 If you are interested in purchasing the book: Gwich'in Ethnobotany: Plants Used by the Gwich'in for Food, Medicine,
Shelter and Tools" by Alestine Andre and Alan Fehr (2002) Follow this link
15 July 2010
The Arctic coastal interface is a sensitive and important zone of interaction between land and sea, a region that provides essential ecosystem services and supports indigenous human lifestyles; a zone of expanding infrastructure investment and growing security concerns; and an area in which climate warming is expected to trigger landscape instability, rapid responses to change, and increased hazard exposure.
Starting with a collaborative workshop hosted by the Norwegian Institute for Air Research in October 2007, the International Arctic Science Committee (IASC), the Land-Ocean Interactions in the Coastal Zone (LOICZ) Project and the International Permafrost Association (IPA) decided to jointly initiate an assessment of the state of the Arctic coast. The goal of this report is to draw on initial findings regarding climate change and human dimensions for the Arctic as a whole provided by the ACIA and AHDR reports to develop a comprehensive picture of the status and current and anticipated changes in the most sensitive Arctic coastal areas. Adopting a social ecological system perspective the report considers the implications of change for the interaction of humans with natural coastal systems. The report is intended as a first step towards a continuously updated coastal assessment and aims to identify key issues requiring future scientific attention in an international Earth system research agenda.
The draft report is the outcome of this collaborative effort and starts with a thematic review of the state of physical and ecological systems and human communities and activities on the Arctic coast as of 2010. It than moves to a more holistic and coupled-system perspective to identify
knowledge gaps and future research needs. Current knowledge presented and synthesized is based on published literature and other sources.
The document was prepared by an international writing team, including 15 Lead Authors and 27 Contributing Authors. The draft report was released during the IPY Oslo Conference, 8-12 June 2010. The whole report will soon be available for a 2-month public review during August-September with the objective to publish the final version early in 2011. Instructions for submitting review comments will be posted along with the full draft report by the end of July.
General Editor: Donald L. Forbes ()
Editorial Board: Hugues Lantuit () Volker Rachold () Hartwig Kremer ()
For more information and to access the report, see: http://arcticcoasts.org
To submit comments and questions, please email:
For more information and to access the draft report, see: http://arcticcoasts.org
30 June 2010
During the 28. June to July 2. The ICC holds it's general assembly in Nuuk, Greenland. Inuit Leaders from Canada, Russia, USA & Greenland come together every four years to discuss the development in the arctic and their common concerns- and the meeting now is especially focused on during the meeting:
Environment, including Climate Change
Political and economic development
Health and Well-being
Hunting and Food Security
Governance
Inuit Arctic Policy
Climate change and many other issues that are effecting the arctic, and thereby the Inuit, need to be discussed and a common policy or guidlines formulated.
Further information can be found on Http://www.inuit.org
Source: Arcticcouncil news
11 May 2010
The Arctic Portal is proud to velcome International Arctic Social Science Association (IASSA) into the Arctic portal community, as the IASSA website is now hosted and designed by the Arctic Portal. The website has been up and running for a while and more content will continue to be added.
For those interested in taking a look please go to http://iassa.org/
11 May 2010
The Arctic Portal would like to draw your attention to the following publication, which is a cooperation between APECS, UArctic, SCAR, IAI and IASC. The cooperation is intended to assist early carrier scientists in planningthe path to the richly diverse and challenging world of polar research, and informative for all interested in the polar regions.
An information flyer to 'explore' polar science is now available for students and early career scientists. The flyer is a shared initiative of the Association of Polar Early Career Scientists (APECS), the University of the Arctic (UArctic), the Scientific Committee on Antarctic Research (SCAR), the International Antarctic Institute (IAI) and IASC.
With a simple overview it aims to inform about international opportunities to study the richly diverse and challenging world of the polar regions. It contains information on, and links to international organizations that inform and advise early career scientists on: career development, networking, funding opportunities and communication and outreach.
The flyer offers a first step in the advancement and support of a strong future of polar researchers and can be downloaded for print here:
Exploring Polar Science Flyer – small file size
10 May 2010
Scientists in the Northwest Territories have come across a polar bear and grizzly hybrid in the Arctic. The animal that was killed on April 8 in the proximity of the Holman community by inuvialuit hunter David Kuptana. The animal is believed to be a second generation hybrid, meaning that it's mother was a mixture of polar bear and grizzly bear, while it's father was a regular polar bear. Scientists state that this may be the first second- generation polar-grizzly bear hybrid to be found in the wild.
It is estimated that these hybrids will becoming increasingly apparent due to climate-change as polar bears are more likely to come into contact with grizzly bears due to declining summer sea ice, leaving them stranded on land.
28 April 2010
A report summary from the IPY International Early Career Researcher Symposium is now available at the APECS website.
There are many skills required of early career polar researchers that are not typically taught in graduate school or post doctoral environments, but are essential for the basis of a strong career. To help address this, the Association of Polar Early Career Scientists (APECS), together with the ArcticNet Student Association, and the Northern Research Forum held the IPY International Early Career Researcher Symposium, in Victoria, B.C, Canada from December 4-8, which was sponsored mainly by the IPY Canadian Federal Programme and the Canadian Polar Research Commission.
The summary of the meeting includes an overview of all seven sessions and the evaluations that were made. The career development workshop was attended by 71 participants and 20 mentors from 14 different countries, and brought together early career polar researchers from a range of disciplines for a series of training sessions to develop professional skills, work with senior mentors, and develop international and interdisciplinary collaborations. The Symposium had seven themed sessions, all of which included a plenary talk attended by all symposium participants, and a hands-on training session. All plenary talks and breakout sessions were recorded, and recordings will be available on the APECS website by June.
12 February 2010
The unique Polar law Master's program at the University of Akureyri, Iceland is open for application. The deadline for the submission of applications for admission and scholarships is April 1st. for International applicants and June 5, 2010 for EU/EETA applicants.
The Master's program is designed both for lawyers (leading to the LL.M. degree -90 ECTS) and non-lawyers (leading to the M.A. degree -120 ECTS). There is also an option of a Diploma in Polar Law Studies at the undergraduate level (60 ECTS).
Polar law describes the legal regimes applicable to the Arctic and Antarctica. Emphasis is placed on areas of international and domestic law concerning the Polar Regions. Issues of human rights law, environmental law, the law of the sea, the law of sustainable development and natural resources are addressed, including questions of sovereignty and boundary disputes on land and sea; the rights of Arctic Indigenous peoples; self-government and good governance; security; climate change; economies and business development; resource claims and biodiversity in the Polar Regions.
Graduates will be able to seek work in the public and private sectors; with different levels of government (nationally and globally), with international and regional organizations; with academic institutions and non-governmental organizations; and with national and transnational corporations to promote the interests of the Polar Regions and their inhabitants. Intensive courses are taught in English by the leading international academic experts and practitioners in the field of Polar Law. There is no tuition fee.
The University of Akureyri is located in Northern Iceland in attractive natural surroundings.
For further information regarding the application process and courses, please visit the Polar Law website or contact Dr. Markus Meckl, Polar Law Coordinator, tel.: +354 460 8655
12 February 2010
The connection between the native Americans and North American Inuit to the Inuit living in Greenland has long puzzled the minds of researchers. Also, the migration patterns of people over the northern hemisphere have for a long time interested people. Now it has been found out by the research team of Professor Eske Willerslev and his PhD student Morten Rasmussen, from Centre of Excellence in GeoGenetics at the Natural History Museum, University of Copenhagen, Denmark, that people preceding the Inuit living in Greenland today crossed into the New World from north-eastern Siberia between 4,400 and 6,400 years ago in a migration wave that was independent of those of Native Americans and Inuit ancestors. The discovery was made by analysing a tuft of hair that belonged to a man from the Saqqaq culture from north-western Greenland 4,000 years ago. This discovery is an achievement both in gene technology as wel as in archaelogy and can be of significant help to scientists as they seek to determine what happened to people from extinct cultures.
For more information, please visit the news section of the University of Copenhagen
11 February 2010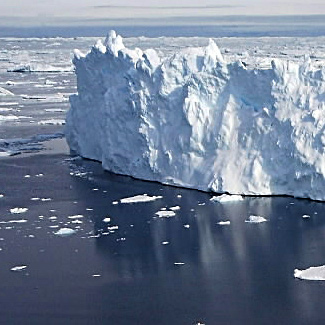 It can be agreed by most people that the Arctic as one of the last wildernesses in the world is invaluable. For the earth's bio- and cultural diversity the Arctic as it appears today, covered with ice and snow, is irreplaceable and most environmental organizations agree that reducing climate change is the only way to preserve this fragile nature. The Pew Environmental Group has, however, estimated the financial value of the Arctic sea ice to the world by estimating the value of the area in terms of the climate services it provides. According to the organizations preliminary calculations the loss of Arctic snow, ice and permafrost is estimated to cost the world in 2010 US$ 61 billion to $371 billion in lost climate cooling services. By 2050, the cumulative global cost is projected to range from US$2.4 trillion to $24.1 trillion; and by 2100, the cumulative cost could total between US$4.8 trillion and $91.3 trillion.
To learn more about the Pew Environmental Group and their melting Arctic sea ice project, please visit the Pew Charitable Trusts homepage
10 February 2010
The 6th Annual Arctic shipping Summit will take place during between 27. and 29th April 2010 in Helsinki Finland, with a pre-conference seminar on the 26.
Leading experts from a diverse background will come together and analyze critical development and practical challenges connected to Arctic Shipping, these include
Strategic concerns, security and sovereignty
Developments in transport and exploration in Russian Arctic, North
America and Greenland
The impact of climate change on potential navigation conditions
Challenges of ice management operations for offshore vessels
Technical challenges for design of ice-going ships and icebreakers
Stakeholder discussion on current status of training for ice-going crew
Chairmen and speakers will include. Keynote wpeaker Sergey Donskoy, Deputy minister, Ministry of Natural Resources of the Russian Federation as well as
Anders Backman, Rederi AB Trasatlantic
Josep A. Casanovas, DG TREN, European Comission
Reidun Haahjem, GARD AS
Jan Fredrik Hammer, Beluga Projects (Norway) AS
DR Mikhail Grigoriev, GECON
Professor Frédéric Lasserre, Laval University
Fre?de?ric Lasserre, Laval University > Malcolm Lowings, Golder Associates
Wilhelm Magelssen, DNV
Mikko Niini, Aker Arctic Technology Inc
Capt David Snider, Martech Polar Consulting
Dr Kirsi Tikka, ABS
Professor Peter Wadhams, DAMTP, University of Cambridge
The last year has seen continuing developments in the prospects for Arctic shipping, including the first commercial voyage by a western shipping company through the Northern Sea Route from Asia to Europe. During the conferance participants will be given the oppertunity to hear from Beluga Shipping on the background and results from this transit. It is clear that the Arctic shipping summit will be an exiting event, attended by some of the most prominent actors interested in arctic shipping which no-one interested in Arctic shipping should overlook. Further information can be found at the informa maritime events homepage by clicking here, all conferance information and registration form can be downloaded by clicking here
15 January 2010
UNESCO Publishing has just released Climate Change and Arctic Sustainable Development: Scientific, Social, Cultural and Educational Challenges.
This book brings together the knowledge, concerns and visions of leading Arctic experts in the natural and social sciences, and of prominent indigenous leaders from across the circumpolar North.
For more information: http://publishing.unesco.org/details.aspx?&Code_Livre=4722&change=E