2012 Other
|
Written by Administrator
|
Sunday, 22 April 2012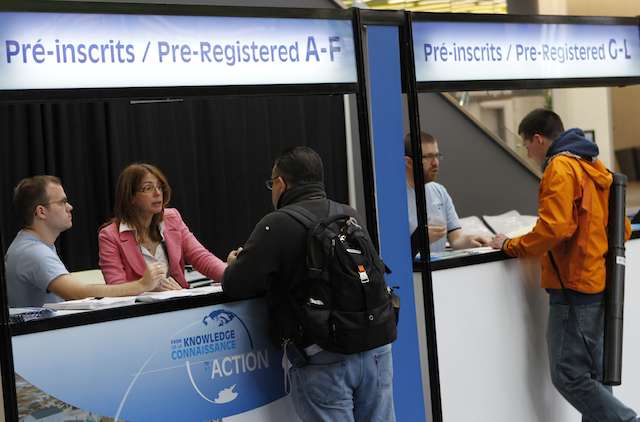 registration in Montreal today (Photo: Hjalti Þór - Arctic Portal)The 2012 IPY conference in Montreal starts today. Over 2600 people have registered for this elite conference in polar issues.

According to organizers, around 2000 people were anticipated to join the conference. "It goes well beyond what we expected," was the answer when asked if this is what they aimed for.

They are still registering so around 2800 people are expected to participate. They are from all over the world, ranging from students to top level scientists and policy makers.

Around 80 media representitives are participating. Close to 100 people are working around the clock during the conference, making sure everythin is in place.

The conference in Palais des congrès is very well organized and today there were people everywhere, making sure everything is in place.

Student riots in Montreal have casted a shawod on the conference, some riots are expected in the morgning. Security will be very high and there will be only onw enterence for conference guests.

Organizers are very excited about the conference, which will see Gro Harlem Brundtland speaking tomorrow, on Monday.

The conference website.