Climate Change News
|
Written by Hjalti Þór Hreinsson
|
Wednesday, 27 June 2012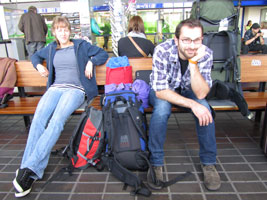 From the railway station in Kuopio in Finland, taken yesterday, when the UEF field group was getting ready for their journey. (Photo: Christina Biasi)The PAGE21 permafrost project has set up an interesting feature on its website. It is a live blog from research fields in the Arctic.
PAGE21 carries out extensive research this summer and this is a unique way to get a peak inside the researchers, their work, facilities and life outside the research.
There are already a few blog articles on the website, which can be accessed here.
Alfred Wegener Institute in Germany will be blogging from Samoylov in german, there will be blog from Herschel Island in English and a group of five reserachers from the University of Eastern Finland has already begun their expedition to Seida in North-West Russia.


Click here to go to the website.